WebRezPro is a popular choice for properties that offer a mix of accommodation, like hotel rooms with cabins, camping sites, and boat slips! Our flexible software makes managing unique inventory setups easy, with customizable rates, policies, and reporting.
If you're looking for property management software that helps maximize revenue from your boat slips alongside your other accommodations, keep reading to find out how WebRezPro makes managing your entire business a breeze.
Direct online bookings
Online bookings are essential for driving revenue. Convenient for your customers and front desk staff, a website booking engine allows guests to book themselves in at any time, day or night, saving you countless phone calls. But for properties with various kinds of inventory, it can be hard to find a direct online booking system that accommodates all your options. Thanks to WebRezPro's flexible inventory setup, lodging operators can sell boat slips alongside rooms, cabins, or camping sites online.
Unit types can be created for various berth lengths and included among other inventory in online availability searches. The booking form can be set up to request information such as boat name and length, power requirements, etc. If a guest books a room and a boat slip, the two reservations can be tied together in a private group folio for easy management and billing.
Using our optional location module, marina inventory can even be set up as a separate location to offer a separate booking engine for boat slips and track revenue and taxes separately.
Our interactive booking map allows online bookers to view and choose an available boat slip from a map image. Guests love being able to pick their spot!
Fully integrated with the property management system, WebRezPro's online booking engine always displays live rates and availability, and online reservations automatically appear in the PMS so you never have to double-handle bookings. WebRezPro also includes secure payment gateway integration so payments can be accepted online to streamline the check-in process.
Flexible rates and policies
Managing various types of inventory means managing various rates and booking and cancellation policies as well. This gets confusing without an automated system! Our clients that manage a range of accommodation types, including boat slips, appreciate WebRezPro's flexibility to set up multiple rack rates, weekly and monthly rates, packages with product/service add-ons, and discounts—allowing them to sell their inventory the way they want.
For long-term bookings (for rooms or boat slips), guests can be billed weekly or monthly. If the last days of the stay don't round out to a full week or month, those last days can be prorated on a nightly basis.
Multiple reservation and cancellation policies can be created and attached to specific unit types and/or rates, ensuring the right policies are attached to the right bookings.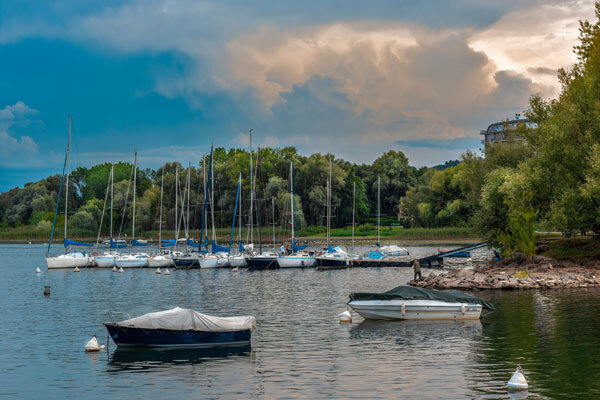 Automated guest communications and self-check-in
Sending rental agreements, booking confirmations, and check-in instructions to every guest manually is a time-consuming task—and running your property sure keeps you busy! Some guests inevitably fall through the cracks, miss important information, and may even cancel their reservation because of that. By automating guest communications, you improve guest service and efficiency.
WebRezPro helps properties connect with every guest at important touchpoints to communicate information, provide personalized service, and build loyalty.
Our guest agreements feature can be used by properties with marinas to allow guests to accept and sign rental agreements digitally as well as manage self-check-in. Guest agreements are customizable to communicate terms and conditions of the stay and request guest and vehicle/vessel information. They can be set up to require credit card information and/or payment and for the guest to sign the agreement digitally. Guest agreements are sent to guests automatically prior to arrival and completed agreements are automatically attached to the applicable reservation.
Other routine communications can be automated using WebRezPro's email templates. Templates can be customized for booking confirmations, pre-arrival emails, check-in and check-out, post-stay emails, waitlist reservations, etc., attached to specific unit types and/or rates, and triggered automatically according to stay dates. Separate pre-arrival or check-in email templates (and guest agreements) can be created for room bookings and berth bookings, for example.
More and more properties take advantage of guest messaging integrations to communicate with guests via SMS or WhatsApp. We integrate with a number of leading guest messaging providers to help properties simplify guest communications, drive positive reviews and ancillary revenue, and reduce no-shows.
Point-of-sale invoicing
WebRezPro includes point-of-sale invoicing, allowing properties to create separate invoices for additional services and sales that are not attached to a room reservation. We also integrate with leading POS systems to streamline the experience for guests by sending POS charges to the guest's reservation. That way, guests don't have to pay for incidental purchases on the spot during their stay—they can simply settle their entire bill upon checkout. Posting POS charges to reservations automatically rather than manually improves billing accuracy, avoiding lost revenue and grumpy guests.
Our integration with Marina Controller works great for properties with a marina store, allowing guests to charge gas and other dockside purchases to their reservation.
Real-time reporting
Holding a finger in the wind won't get you very far when it comes to steering your business. Managing all sides of your operation with a single automated system results in better reporting—and that's important because without a clear picture of your entire business, you can't make the right decisions.
WebRezPro automatically tracks all transactions and synchronizes data in real time, allowing you to generate standard and custom reports quickly and easily. Complete with accounting software, WebRezPro covers all financial and performance reporting, including booking and sales reports, travel agency billing and tax reports, and the balance sheet and profit/loss statement.
Reports can be exported from the system in spreadsheet format and even automatically emailed to designated recipients every week or month.
Our powerful reporting features allow lodging operators to harness their data, giving properties access to the numbers they need to set sail for success.
Take advantage of the power of automation to streamline operations and generate revenue across your entire property. WebRezPro's flexible software supports complex inventory configurations to maximize bookings and revenue while improving operational efficiency and visibility—and guest experience. Our mobile-friendly software allows authorized staff to access reservation data from anywhere, whether behind the front desk or on the dock, for seamless service delivery.
Contact us for a no-cost, no-obligation demo to see first-hand how WebRezPro makes managing your property a breeze.