There's been a lot of chatter about guest messaging in the hotel industry lately. Everyone's adopting mobile communication channels to better engage guests. It's been happening since the pandemic forced us to avoid interacting with other people face to face. Momentum really picked up from there as hoteliers saw how quickly guests embraced text messaging and how, when integrated with the property management system, it can make life behind the front desk much easier!
Most of us are proficient texters in our everyday lives. It only makes sense to communicate with guests the way they prefer to communicate. Keep reading for more reasons to connect with your hotel guests via text message (in case you're not yet convinced), to learn how to incorporate text messaging into the guest journey, and to read a case study from our partner, Akia, to see how it all pans out in real life.
Why Use Text Messaging to Communicate with Guests?
There are lots of reasons lodging operators are adding text messaging to their guest communication channels. Here are six big ones.
1) It makes guests happy.
Automated guest messaging platforms allow you to send personalized messages throughout the guest journey, strengthening your connection with your guests. When guests need something, sending a quick text message is more convenient than emailing, calling, or trudging down to the front desk, and it promises a fast response. Implementing guest messaging empowers hoteliers to improve communication, which increases guest satisfaction and positive reviews.
2) It's efficient.
Texting is not only convenient for your guests but for your staff too. Automated guest messaging platforms enable you to manage and respond to all incoming messages (whether they're coming from SMS, WhatsApp, your hotel app, etc.) from a single dashboard. Messages can be prioritized and delegated to members of your team instantly, improving internal communication and resulting in faster service resolutions.
Working with your property management system, your guest messaging software can be set up to trigger personalized routine messages throughout the guest journey automatically. (If you thought implementing text messaging meant that you'd be madly texting away on your phone all day, think again!) Hotel guest messaging solutions can provide chatbot services too, to answer all those frequently asked questions for you. Automating communications in this way is a big time saver, which is one of the biggest reasons so many hoteliers are doing it.
3) It's effective.
Suspect guests aren't reading your emails? It could be true. Emails sent from businesses to consumers see an average open rate of around 20 percent. By comparison, the consumer open rate for text messages is over 80 percent! If you want to get important information across to your guests, you better send it by text.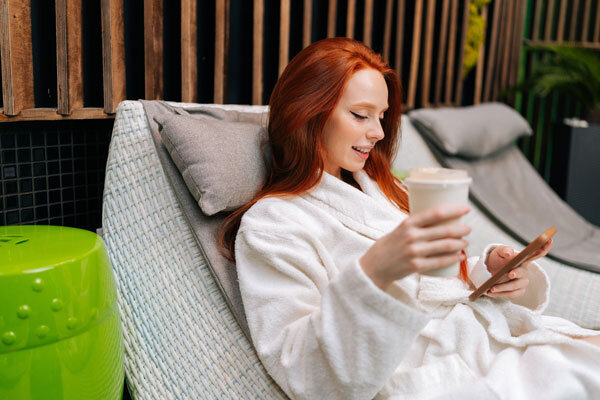 4) It's profitable.
Automated guest messaging platforms use guest reservation data from your property management system to figure out what each guest wants and automatically offer customized upsells and add-ons, including room upgrades, services, and activities. Customizing offers based on guest booking information and preferences drives more revenue than presenting guests with a random selection or all of your upsell options. Smart guest messaging software takes the guesswork out of upselling and makes it easy for guests to accept offers.
5) It's informative.
High engagement rates make text messaging a great source of data that can be used to personalize the guest experience. From pre-arrival registration to in-stay requests and upsells, some guest information can be automatically sent to your property management system while other data can be manually added to guest profiles. Chat histories provide lodging operators with valuable data that can be analyzed on an aggregate scale to inform operational and service improvements.
6) Guests expect it.
Text messaging has been widely adopted across many industries since the pandemic and consumers naturally embraced it. Communicating with hotels by text message is fast becoming a standard guest expectation.
How to Incorporate Text Messaging into the Guest Journey
Guest messaging platforms have a lot more to offer than sending guests pre-arrival/check-in information. They provide value throughout the entire guest journey.
Pre-stay
Guest messaging platforms start proving their worth as soon as guests land on your property's website. Via a chatbot or web chat feature, the software can answer your customers' common questions for you and send the more difficult questions to your staff—saving front desk personnel lots of time.
Booking confirmations and pre-arrival information can be sent to the guest via automated text messages. Some guest messaging platforms allow properties to customize beautiful web-based hotel apps that guests can use to review their booking info, choose upsell services, and communicate with your hotel (no download required because guests don't want to download yet another app!).
Check-in
Guest messaging platforms facilitate completely seamless guest self-check-in experiences. Using reservation information from your property management system, your guest messaging software automatically sends personalized check-in communications to guests inviting them to complete check-in (registration) online.
Check-in messaging can include pertinent arrival information (where to park, etc.,), upsell offers, room ready notifications, payment requests, and mobile room key delivery. Guest registration information and payments received via your guest messaging system can be posted to reservation folios in your property management system.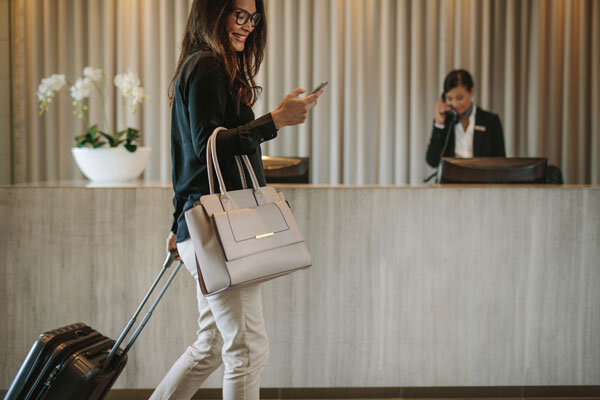 In-stay
Guest messaging applications are just as useful after check-in too. They can be used to send personalized offers, promote on-site services and events, and manage guest requests during the guest's stay. You can even take advantage of personalized digital guidebooks that guests can use to manage their in-stay experience—to find out information about hotel amenities and services, order room service, book a massage, and discover local hot spots, for example.
Guest messaging platforms are also very useful for delivering instant notifications to all in-house guests or a set of guests (e.g., all guests on the second floor) to proactively address service concerns, like if the Wi-Fi goes down. This is a great tool to have in an emergency.
Behind the scenes, team chat functionality streamlines internal communications so that staff can expedite service delivery and resolutions across departments and provide proactive service that results in more positive reviews (and less negative ones!).
Check-out + post-stay
The night before or morning of departure, your guest messaging software can send guests a link to complete the check-out process online. This can involve reviewing their bill, completing payment, indicating their check-out time, and rating their stay experience. Online check-out increases visibility at this important guest touchpoint so that staff know which rooms have been vacated in real time, and the housekeeping team can prioritize and tend to rooms more efficiently.
But it doesn't stop there! Smart guest messaging solutions can use guest satisfaction indicators to send a message to happy guests asking them to review their stay experience on TripAdvisor or Google, driving up your review volume and ratings.
Getting Text Messaging Right
Guest messaging can only work well if it is part of an integrated solution. (Using your personal mobile to text every guest manually is a very bad idea!) For example, your guest messaging system needs access to live reservation data to be able to automate routine communications and suggest relevant upsells.
Modern guest messaging platforms have established integrations with property management systems, payment providers, and mobile key solutions to ensure hoteliers can implement text messaging into their operations quickly, seamlessly, and securely.
Keeping up with bookings for 36 rooms and 16 cottages was a struggle for one of our clients with just one person behind the front desk, so they enlisted the Akia guest messaging platform to manage guest communications and save time. Integrated with our WebRezPro property management system, Akia pulls guest information directly from WebRezPro to automate the property's pre-arrival communications and processes. Sending booking confirmations and reminders by text message ensured guests were getting the information they needed and helped the property improve customer service and reduce no-shows. Read Akia's case study for the whole story! It's just one example of guest messaging done right.
WebRezPro integrates with leading guest messaging platforms for independent lodging operations. Contact us to find out more about integrating WebRezPro to your preferred guest messaging solution.
Want more tips? Read our Dos and Don'ts of Guest Messaging next.