Hotel management researcher Software Advice has just released their 2014 Hotel Management Software (HMS) BuyerView report uncovering this year's top HMS buyer trends. The report reveals why hotel managers are looking for new software, which features are most important to them, and the most active buyer segments.
At a time when hotel technology is rapidly evolving, the report provides HMS vendors like ourselves with valuable insight into current buyer needs and helps to ensure that we are providing our clients with what they really want. The report is also an interesting read for lodging managers looking to purchase hotel management software, reinforcing the benefits of HMS (especially for independent and boutique properties) in the current market.
Software Advice compiled the report by analyzing discussions with a random selection of 385 of their HMS-seeking customers from 2013. Here are the key findings from their research:
Who's buying HMS?
The majority of HMS buyers (57%) operate small-to-medium properties between 10 and 50 rooms. One quarter of buyers represent independent hotels (25%), followed by inns (15%) and resorts (14%).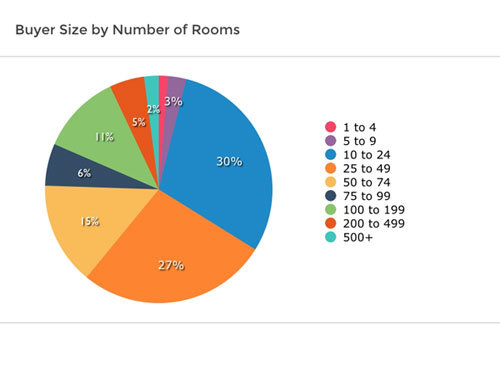 Why are these properties looking for hotel management software?
Most buyers are looking to replace either existing HMS (34%) or spreadsheet/paper-based methods of property management (28%).
The top three reasons buyers are looking to replace an existing HMS are the need to update outdated software (18%), missing features like online bookings and channel management (16%) and the need to improve efficiency (15%).
The vast majority of first-time HMS buyers looking to replace manual methods cite the desire to improve efficiency by automating day-to-day tasks (72%).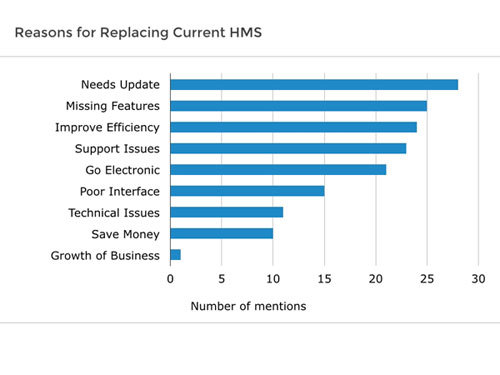 Which features are in top demand?
The most-requested HMS features are reservation management (28%) followed by online bookings (22%) and guest management features (11%), in order to better reach their target customers.


The results of this report align with our experience here at WebRezPro PMS. While WebRezPro is implemented at a variety of property types, including large hotels (over 100 rooms), hostels, vacation rentals, B&Bs and campgrounds, the majority of our clients consist of small-to-medium independent hotels and motels, inns and boutique properties. The system's comprehensive feature set, intuitive user interface and flexibility are well suited to a variety of independent properties.
Also in support of the findings, most of our clients either come from paper-based or "homemade" systems or are looking to replace an existing HMS that no longer meets their needs. Improving efficiency by streamlining operations, online booking functionality, and moving to an affordable, cloud-based system are the most common reasons our clients seek us out.
Reservation management has long been a fundamental component of an HMS and we believe that online booking functionality and channel management are now part and parcel of that—and it appears that Software Advice's buyers support that notion. WebRezPro includes a mobile-friendly online booking engine that is fully integrated with the PMS, eliminating the need for hoteliers to manually enter online reservations into the system. WebRezPro also integrates with the GDS and OTAs like Expedia, Booking.com and Orbitz, and channel management solutions, streamlining online distribution.
As well, we find that personalized guest service is a high priority of our independent and boutique hotel clients, and effective guest management features are key to doing this right. WebRezPro's guest folios are designed to capture comprehensive guest data, complete with the ability to set guest-specific pop-ups (a reminder to wish the guest a happy anniversary, for example), and enable hoteliers to personalize guest service at all touch points during the guest cycle.
Click here to see the full Software Advice report.