It's your property management system's job to save you time by automating routine tasks, integrating with your other hotel platforms, and ensuring your data is there when you need it. You have enough to do already with welcoming guests, responding to reviews, and dealing with that plumbing issue in room 516. It's enough to keep anyone on their toes, so use your PMS to make things as easy and efficient as possible.
Direct Online Bookings, Cancellations, and Modifications
Your website needs an online booking engine that connects to your PMS. When a guest books online, all reservation details will automatically go into your PMS. If a guest needs to cancel or modify their reservation, they can do so online as well. Not only does this free up your staff's time, it reduces errors. If staff have to manually type information from another platform or from over the phone, it's easier to make mistakes. Listening to an irritated guest spell out their name for the second time is not the most efficient nor the most accurate way to put in reservations.
Booking Channel Integration
Unfortunately, not every guest makes their reservation with you directly. You have to think about your OTA and GDS channels as well. OTAs (online travel agencies) are third-party sites like Expedia and Booking.com where guests can also book a room at your hotel. They charge commission fees but offer visibility. A GDS (global distribution channel) is another kind of third-party site, only these sites are usually for larger, corporate bookings and travel agents.
Like your website booking engine, these channels need to integrate with your PMS, so you don't have to double-handle OTA reservations or update availability across various channels manually.
Guest Communications
Imagine manually sending a booking confirmation, pre-stay upsell, check-in email, bill, and post stay feedback request to each guest. If you have 50 rooms and new guests check in to those rooms at least once a week, that's 250 emails a week. Better type fast…
Or you can automate your guest communications using customizable email templates generated by your PMS. Inside your PMS, you can create templates for any occasion, and they are automatically personalized and triggered based on the guest's reservation information, so every guest always receives the right information at the right time. You may have to adjust the phrasing in your templates as your offerings change, but it will still save you a lot of time (and your sanity!).
With WebRezPro, you can also communicate with guests by text message via integrations with guest messaging applications such as Akia or Kipsu.
Self-check-in
With self-check-in, guests won't have to wait in line, and you won't have to pause what you're doing to make sure all their forms get filled out. Instead, your PMS sends guests an email or text message prior to their stay that invites them to register online.
If they choose to do this, they can submit their photo identification, vehicle information, credit card details, and signed guest agreement all before setting foot on the property. The completed agreement then automatically attaches to the guest's reservation in WebRezPro, so it's easy to find if you need to check it.
When guests arrive, they can simply swing by the front desk to collect their key or, even better, use keyless entry (digital keys). Not just a time-saving option, keyless entry is also better for the environment because it cuts down on those little plastic rectangles that get lost at the bottom of your guest's purse.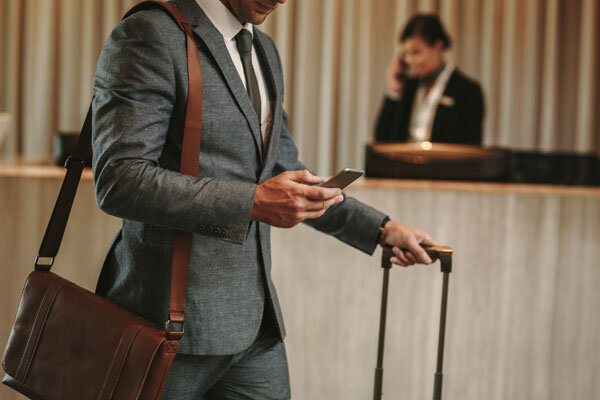 System Integrations
For your PMS to work most efficiently, it needs to connect to your other hotel systems, for instance, the booking engine and OTAs mentioned above. It should also integrate with your payment gateway and point of sale (POS) platforms to automatically record all payments and charges and to ensure guests are billed correctly. (Managing invoicing manually is time consuming and prone to error.)
With a payment gateway integration, when guests give you their credit card information, either in person through a card reader or online, that information is automatically sent to your payment gateway (no need to manually type credit card numbers into your system). The payment gateway then directs the information to the credit card processor and issuing bank, which approves or denies the transaction, then sends payment confirmation to the PMS. It's not only faster but safer too, keeping credit card numbers out of your PMS.
Your point of sale system allows you to charge ancillary services such as restaurant and spa purchases to your guest. If it's connected to your PMS, those charges can be automatically assigned to the guest's reservation folio without you having to type them twice. You'll spend less time at the computer, and your guest's bills will be more accurate. Again, anytime you double-type something is a chance for errors to creep in. You won't be happy if that $300 facial accidentally becomes a $30 facial, and your guest won't be happy if this happens in reverse.
Real-time Reporting
Not only do you need to know how much money you're making, you also need to know where it's coming from and how revenue sources compare to one another. This is where real-time reporting and custom report templates come in. Say bon voyage to hours of Excel spreadsheets!
WebRezPro has over ten different standard reports covering rates, reservations, and performance and financial data. These reports automatically update whenever the PMS receives new information. And you're not limited to the reports that we come up with. Custom reports enable you to design your own reports that suit your unique property.
Mobile Access
Running back to the front desk every time you need to check information is a good way to get your steps in, but it's also a time waster. A cloud-based PMS enables you to reach that information from a mobile device anywhere on the property.
For instance, WebRezPro offers housekeeping checklists and scheduling that employees can access on a mobile device in real time. They can see which rooms need cleaning and update room status on the go. Those updates automatically go to the clerks at the front desk, so they know which rooms are safe to check guests into.
You can check guests in from a mobile device as well (assuming they opted out of self-check-in). They can sit in your lounge instead of standing in line. Bonus points if you offer them tea!
Your PMS should save you time by automating repetitive manual tasks, connecting to your other systems, and freeing you from your front desk. This enables you to concentrate on what matters most—providing a better guest experience and growing revenue. You may even be able to get to the bottom of that to-do list!