In the ever-evolving landscape of the hospitality industry, independent hoteliers are facing a shift. Third-party data—such as data purchased from marketing companies or collected through cookies—was once a cornerstone for understanding guest preferences and market trends but is gradually disappearing due to privacy concerns and changing regulations. While third-party data provides convenience, a move away from it is a move in the right direction, especially when first-party data is literally at every hotelier's fingertips.
In this blog post, we'll delve into why first-party data is important and how, with the right tools, it opens up a world of dynamic possibilities, allowing hoteliers to precisely target their audience, grow their business, and deliver tailored, personalized services.
What Is First-party Data, and Why Is It Important to Hoteliers?
Whereas third-party data is collected and owned by external sources that are not directly related to the business using the data (such as various websites and data brokers), first-party data refers to information that a business collects directly from its customers or audience. This includes data obtained through interactions and transactions, such as customer purchases, website visits, and user behavior. This data is owned and controlled by the business itself and is considered the most reliable and valuable type of data for personalized marketing, customer insights, and improving business operations.
For hoteliers, first-party data is essential as it comprises information collected directly from guests and website visitors. This data empowers hotels to personalize guest experiences, target marketing efforts effectively, foster guest loyalty, and optimize operations. Moreover, it facilitates compliance with data privacy regulations, ensuring secure and ethical data usage and ultimately resulting in improved guest satisfaction and business success.
How Can Hoteliers Collect First-party Data?
Hoteliers can collect first-party data through all customer touchpoints, encompassing contact details, booking history, guest preferences, and feedback. It is crucial to handle this private information discreetly.
According to Salesforce's State of the Connected Customer Report (2020), 84% of customers emphasize the importance of being treated as individuals rather than mere numbers, with 73% of them expressing their willingness to share data in exchange for a more personalized experience.
In light of this, what's the most effective approach for hoteliers to gather guest data? Put the trench coat and x-ray glasses aside; there's nothing clandestine here. While the ultimate goal is personalized service, data collection primarily centers around constructing guest personas for targeted marketing.
Various customer touchpoints offer opportunities for collecting personal information from guests, such as during booking or check-in. However, requesting excessive information upfront may, much like a disastrous blind date, deter your guests. Think of it as a reverse drip campaign, where instead of disseminating information, you're gradually accumulating it.
Booking
Whether guests book online (directly or via third-party websites) or through your front desk, they usually provide contact information, including names, email addresses, and phone numbers. This data constitutes the foundation of your guest database. Consider requesting additional information that aligns with this stage in the customer journey. This may include:
Special requests
Dietary preferences
Purpose of travel (business, leisure, or a special occasion)
Obtaining this information not only aids in meeting their needs but also facilitates surprise and delight initiatives, such as leaving a box of chocolates in the room for a couple celebrating their anniversary.
Reservation Data
An automated property management system tracks reservation data, including occupancy rates and fluctuations, TrevPar, and OTA booking data. Booking reports are key to reviewing performance and planning impactful operational strategies.
Check-in
Whether in-person or online, check-ins are the perfect opportunity to round out guest profiles with additional information, such as preferred method of payment, spouse's name, mobile number, and any special requests or preferences.
Email Subscriptions
Aside from encouraging email signups on your hotel's website, don't forget to add an opt-in button to your booking forms. This way, you'll gain consent to send guests exciting promotional offers. These emails will provide valuable insights into guest behavior, revealing which links they click on and what services/amenities pique their interest the most.
Pre-stay and Post-stay Emails
Due to different legislations around the world, for the most part, you cannot send marketing emails to customers who have not agreed to it. However, you are entitled to email guests prior to their arrival and afterward, if it pertains to their stay. Both opportunities are excellent ways to not only collect first-party data but to build loyalty as well.
Pre-stay Emails: Use pre-stay emails to build excitement and anticipation in your guests and upsell amenities or experiences. Including a pre-arrival questionnaire provides you with first-party data and the opportunity to offer bespoke amenities and services.
Post-stay Emails: Use post-stay emails to build loyalty by thanking guests for their patronage and asking for feedback; doing so provides you with the opportunity to correct any issues before they show up in an online review. It also provides invaluable insight into your guests' likes and dislikes (as well as areas of operation that need improvement). Consider sending guest surveys using reputation management or guest engagement software to help you capture data and analyze responses.
Loyalty Programs
Implementing a guest loyalty program can encourage repeat bookings and provide opportunities to collect valuable data. Guests often sign up for these programs by providing their personal information. First-party data from loyalty programs helps identify and reward loyal guests, encouraging repeat bookings. 
In Stay
Wi-Fi Access: Many hotels provide Wi-Fi access to guests. To access the Wi-Fi, guests may need to log in using their email addresses or social media accounts, providing the hotel with contact information.
Point-of-Sale (POS) Systems: Hotels with on-site restaurants, spas, or shops can collect data through POS systems when guests make purchases. When integrated with your PMS, the POS system can automatically post charges to guests' reservations.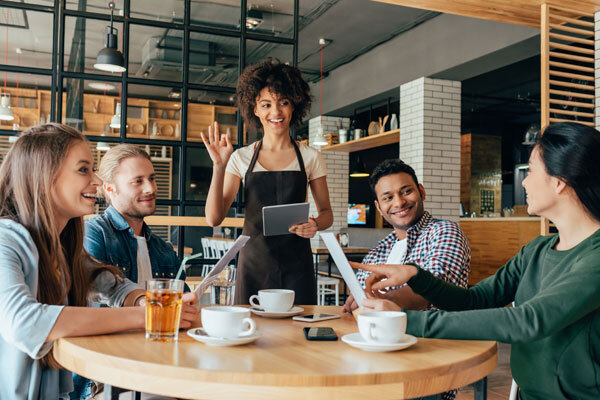 Online Activities
Website Analytics: Utilize website analytics tools to track user behavior on the hotel's website. This data can include pages viewed, time spent on the site, and the source of website traffic.
Mobile Apps: Mobile hotel apps are a great way to collect first-party data as guests use the app throughout their stay, from check-in to check-out. Apps can track user behavior and preferences and send relevant information like upsells to reservation folios in the PMS.
Social Media Engagement: While you shouldn't stalk guests online (who has the time anyway!), you can collect data from your hotel's social media profiles, such as user interactions, comments, and messages.
How Can Hoteliers Use First-party Data?
Collecting first-party data is incredibly valuable for serving your guests. By gaining deeper insight into preferences, behaviors, and interactions, you can enhance guest experience and streamline your hotel operations, not to mention boost your bottom line. Combining and interpreting all the first-party data collected through the various means listed above empowers your hotel to:
Target Marketing Effectively: First-party data provides deeper insight into your guest segments by revealing guest preferences and behavior. This information can be used to create targeted campaigns that resonate with your guests and increase conversions.
Personalize Guest Experiences & Build Guest Loyalty: Target individual guests with offers and upsells curated for their specific needs or incorporate 'surprise and delight' initiatives that anticipate guest needs to encourage loyalty.
Upgrade and Improve Operations: Use feedback from surveys and reviews and analyze popular offers and services to prioritize and implement data-driven operational improvements.
First-Party Software Tools for Hoteliers
There are many solutions to help hoteliers gather, store, analyze, and use guest information to drive revenue. Search for tools and services that integrate with your PMS so that data can be consolidated, saving you from cobbling data from various sources. 
Property Management System (PMS)
Start with a PMS that seamlessly integrates with a wide array of apps and includes its own robust reporting and data analysis features. WebRezPro, for instance, offers integrations with over 125 hospitality solutions and automates processes based on reservation data, including guest communications, payments, channel management, and check-in. Automatically tracking all transactions, it provides flexible reporting features that empower hoteliers to monitor performance and even create customized reports with a level of granularity that spans parameters such as length of stay, lead times, and the distinction between VIP and corporate guests.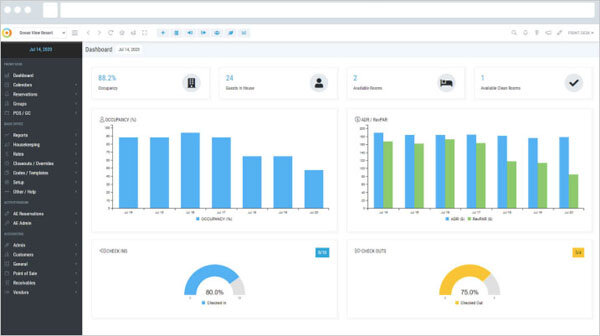 Customer Relationship Management (CRM) Software
A robust CRM is essential for capturing and storing guest data for guest segmentation and communication purposes. Solutions like Salesforce, Cendyn, and Track help hotels build rich guest profiles, gain greater guest insight, and action targeted marketing campaigns. The result? Stronger engagement and, better still, conversions! Integrated with your PMS, your CRM automatically receives reservation data from your PMS to enrich guest profiles and power automated communications. 
Reputation Management Software
Seek software that helps you collect and interpret guest feedback so you can take action. Integrated with your PMS, reputation management systems like Revinate, BirdEye and Qualitelis allow you to send surveys and questionnaires to guests automatically and empower you to track and respond to reviews from various channels in one centralized dashboard.
Guest Messaging / Engagement Apps
Guest messaging apps are used to connect with guests via text message, increasing engagement and collecting data shared by guests during interactions—whether they're checking in, asking a question, or ordering room service using your mobile app. When integrated with your PMS, the guest messaging platform automatically receives pertinent reservation data from your PMS to automate routine messages and delivers transactional data (like upsells) to reservations in your PMS.
Guest Loyalty Programs
Many applications are available to help hotels develop a guest loyalty program. Your choices vary based on your strategy, but each offers you the opportunity to collect and learn from guest data, including VOILÀ Hotel Rewards, Preferred Patron, and Stash Hotel Rewards.
Data Privacy and Compliance
It's important for hoteliers to be transparent about data collection and usage, obtain proper consent where necessary, and ensure compliance with data privacy regulations, such as GDPR and CCPA. Safeguarding collected data is crucial to maintaining guest trust and protecting your business. When you're collecting first-party data, privacy is essential. Protection begins with the systems you use to gather, store, and use guest data. WebRezPro PMS utilizes industry-best data protection measures to ensure data remains protected and private. As well, we recommend following these best practices to avoid data theft.
The Power of First-party Data
First-party data stands as the epitome of accuracy, representing the information you've diligently gathered yourself. It not only outshines third-party data but empowers you to provide your guests with exceptional service and offers tailored to their preferences, ensuring their satisfaction and, in turn, increasing repeat bookings and boosting your bottom line. The pivotal factor lies in having the right property management system and seamless integrations to effectively harness and optimize the wealth of information at your disposal.