"You can't win an argument. If you lose it, you lose it; and if you win it, you lose it." – Dale Carnegie
Have you ever encountered an unsatisfied guest? Let's not dwell on that question because, the truth is, virtually every hotel has received complaints at some point. However, adopting a defeatist or a laissez-faire attitude is not the solution. Instead, it's important to recognize that while complaints are an inevitable part of the industry, how you respond to them can set you apart from your competitors.
As the popular adage says, attitude is everything. Thank your guests for coming forward when they voice concerns because behind every complaint, there are likely more guests that have chosen to remain silent. The best part? Guest complaints provide valuable insight into problems—and chances for improvement. This process is commonly referred to as service recovery.
Service recovery is more than fixing a problem. It involves transforming a complaint into a positive opportunity for both parties involved. In this blog post, we will outline the steps for handling in-stay complaints, addressing negative reviews, and implementing a complaint prevention strategy—all with a win/win end goal that results in loyal guests and repeat bookings. Let's get started!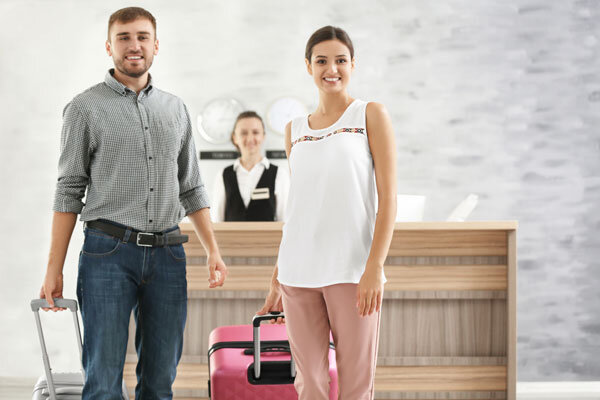 Why a Service Recovery Strategy is Essential
It's the busy season, the hotel is packed, and you're short-staffed. Dealing with complaints can feel like an emergency room triage situation: find a quick fix and move on to the next! But we urge you to develop and implement a service recovery strategy during your next shoulder season. Here's why:
By developing a service recovery strategy, you can streamline and formulate a methodical process that staff can learn to provide service consistency. Complaints can feel unpredictable and catch staff off guard. A strategy builds confidence by providing a known framework with preventative measures built in and contains three main sections:
Managing in-stay complaints
Responding to negative online reviews
Complaint prevention
The Opportunity: The Service Recovery Paradox
Are you familiar with the Service Recovery Paradox? This phenomenon demonstrates that customers who have their issues resolved successfully after experiencing a service failure tend to become more loyal than those who have not encountered any problems.
Research indicates that customer loyalty is often linked to the positive emotions individuals associate with a particular brand (Source: Psychology Today). When a service failure arises, you have an opportunity to transform a negative experience into a delightful one, creating an even stronger bond with the customer.
We're certainly not suggesting that you contrive service failures. But by effectively addressing problems and going above and beyond to make things right, you can exceed customer expectations and leave a lasting positive impression. The key lies in understanding that customers value the journey from a negative experience to a positive resolution. This transformation strengthens the bond between you and the guest, as it showcases your commitment to their satisfaction and demonstrates your ability to deliver exceptional service even in challenging situations.
Hotel Service Recovery Strategy
Handling In-stay Complaints
When you receive a guest complaint during their stay, it's important to resolve the problem fast. While 70% of guests will do business with you again if you satisfactorily resolve the issue, 95% will do so if the problem is resolved instantly (Source: Lee Resource Inc). But if you really want to make a difference, try to go above and beyond by offering a little surprise and delight.
There are certainly many techniques for how to handle in-the-moment guest complaints. We like the LEARN framework because it is a tried and true strategy in use by hotel brands like the Marriott and the Ritz Carlton (you can read the LEARN academic study here). Developed in 2008, the framework is an acronym, making the steps easy to train and recall. 
L: Listen
E: Empathize
A: Apologize
R: React/Rectify
N: Notify
Listen: Stop what you're doing and give your full attention to actively listen to your guest. Let them have their say without interruption.
Empathize: Acknowledge and understand your guest's perspective without making excuses or asking additional questions. Simply show that you recognize and validate their feelings. Often, guests primarily seek assurance that their concerns are heard and seen as important.
Apologize: Have you ever read Don Miguel's The Four Agreements? If so, you'll know to not take the complaint personally! Remain calm and professional and apologize for their negative experience. It's possible to apologize and not accept blame while also being sincere.
React: Jump into action and attend to the issue. It's only at this point that you can ask further questions to more fully understand the situation. Offer a solution and provide them with a couple of options, looping in a manager or the department involved if need be. If you don't have an on-the-spot resolution, let them know the steps you need to take and when they can expect a further response.
Notify: Staff members should notify their manager immediately and convey all necessary information to the involved department. Document and track the event in your property management system or CRM—both the issue and the resolution.
We also suggest you follow up with the guest as the essential final piece of the service recovery puzzle. Ensure the issue has been resolved, find out if there is anything else you can do for them, and, depending on the gravity of the issue, follow up with an email from management upon checkout. This is how you'll seal the loyalty deal.
PRO TIP:
The LEARN acronym is effective in resolving guest issues, but the process must be backed up by efficient systems. To provide immediate service resolutions, seamless interdepartmental staff communication is essential. Utilizing a property management system like WebRezPro with integrated messaging applications enables quick internal communication with relevant employees as well as guests. Setting alarms in the PMS reminds staff to follow up, and automated post-stay emails can be configured to encourage future stays.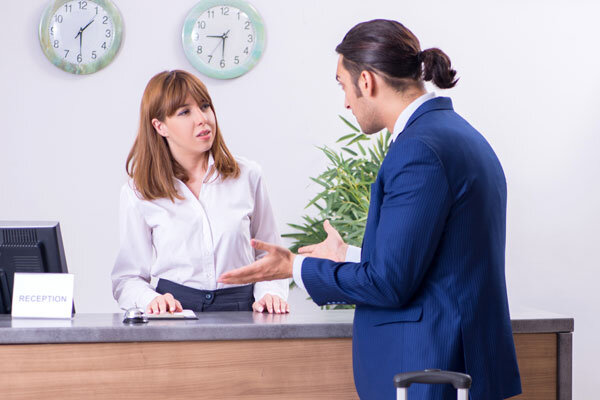 What To Do About Negative Reviews
Just as in-person complaints are inevitable, so are negative online reviews. And like in-person complaints, negative reviews are an opportunity to make things right. It's definitely worth investing time and energy to do so since 40% of consumers form an impression of your hotel's reputation based on those reviews. 
Streamline review management with PMS software integrations like Revinate and BlueJay Reviews, which consolidate reviews across all your review sites into one handy dashboard. Within your service recovery strategy document, include a section on best practices for managing online hotel reviews—and consider posting a "cheat sheet" of review dos and don'ts in the office. 
Responding to complaints online is similar to in person but with a twist. Since many eyes will be on your response, use it as a PR and marketing opportunity. Follow these steps:
Stay calm and take a deep breath before responding.
Sympathize and offer a sincere apology for their experience.
Emphasize the positives of your hotel.
Share what you're doing to rectify the situation.
Offer to take the conversation offline.
Thank them for their feedback.
Here's an example:
Hi Dave, thank you for taking the time to share your experience with us. I have shared your review with the team, and we are deeply sorry to hear about this situation. Providing treasured experiences is one of our core values, and we are truly disappointed that we did not meet this expectation during your stay. We are committed to making it right for you. Please email me directly at management@hotel.com, so I can gather more details and offer a solution personally. Meanwhile, I want to assure you that our maintenance team has already been notified and is addressing the issue as I write this. Once again, thank you for bringing this matter to our attention.
PRO TIP:
While you should aim to respond to every negative review, neglecting to respond to positive reviews means missing out on an opportunity to cultivate greater loyalty. Express gratitude for positive reviews and extend an invitation for future stays. If you can identify the guest's name in your system, consider sending a special offer as a token of appreciation for their review.
Prevention
It was Benjamin Franklin who said, "An ounce of prevention is better than a pound of cure." That's true in medicine and in business. While it's essential to tend to complaints, it's also important to try to prevent them from happening in the first place. Integrate prevention strategies into your service recovery document and be sure to track complaints and negative online reviews as a KPI for your preventative measures.
Manage Guest Expectations
Audit your marketing materials to ensure they're accurate and aligned with what you actually have to offer. Promoting your "beachfront" property for guests to discover you're actually a block away is only inviting complaints!
That said, part of managing guest expectations is also offering what guests want. This report explored the leading trends in negative guest reviews and determined the top three areas of dissatisfaction are cleanliness, dining options, and customer service. Strategize on how to ensure you meet guest expectations by working with what you have.
Clean Up Your Act
Evaluate previous guest complaints and online reviews to determine what you need to work on. Is it better customer service, communication, or cleanliness? Use your PMS to tend to your customer complaints and streamline procedures. A few ideas include:
Request Feedback
Be proactive by asking guests directly for feedback before they go public. Gathering in-stay feedback via SMS messaging and surveys is the perfect way to check in with guests while they're at your hotel without being intrusive. This way, you can rectify any potential issues while building loyalty.
Post-stay communication is another important touchpoint. Use automated post-stay emails and/or surveys to thank guests for their patronage and request feedback. If any issues are identified, you'll have the opportunity to resolve them before a review is submitted. 
Surprise and Delight
Build loyalty and make a positive first impression by creating moments of surprise and delight for your guests. Communicate your commitment to the guest experience by offering small surprises, such as complimentary chocolates for couples on a romantic getaway or a personalized happy hour offer for business guests. These thoughtful gestures can make a big difference to guests.
Service recovery goes beyond simply fixing a problem; it involves transforming a complaint into a positive experience for both the guest and the hotel. By implementing a service recovery strategy backed by automated systems like WebRezPro, you'll consistently streamline service delivery and manage complaints and negative reviews in a way that fosters guest loyalty and encourages repeat bookings.