Change can be daunting, especially when it involves time, resources, and complex decisions. For busy lodging operators, disrupting the status quo may not fit into your demanding schedule.
But if that schedule is fraught with inefficiencies, and you're struggling to keep up with daily tasks and guest expectations, something's gotta give before your bottom line does. Here are seven clear signs it's time to change your property management system (PMS).
1. Daily tasks take too long (you know there must be a better way)
If your PMS isn't making your work day easier, it's not doing its job. By automatically sharing data between departments, a modern PMS should streamline daily tasks such as bookings, check-in, housekeeping, and invoices. 
If you spend (waste) too much time clicking through a bunch of screens and manually duplicating data, your current PMS isn't effectively consolidating that data. Your PMS needs to integrate with other hotel systems like your payment processor, online distribution channels, keycard system, and revenue management software, so you're not typing everything in twice (and making errors!).
A clunky PMS is detrimental to efficiency, guest satisfaction, and revenue—not to mention your sanity!
2. You're stuck behind the front desk
Property management software installed on a single front-desk computer hampers efficiency by requiring staff to drop what they're doing and return there every time they need information. But it doesn't have to be that way.
A modern cloud PMS can be accessed via secure login on any computer or mobile device. Anywhere, anytime access provides staff with key information on the go, improving response times for service and operational decisions.
Housekeeping doesn't have to troup down to the lobby for instructions on where to clean. They see which rooms are dirty in real time on their mobile device and can update room status as they work. That information automatically transmits to the front desk, so clerks know which rooms they can safely assign guests. 
A mobile PMS comes in handy during arrival as well; you can use tablets to check guests in. Guests don't have to wait in line at your front desk and can relax in one of your lounge chairs with a cup of tea instead. Or you can show them straight to their rooms and check them in from there.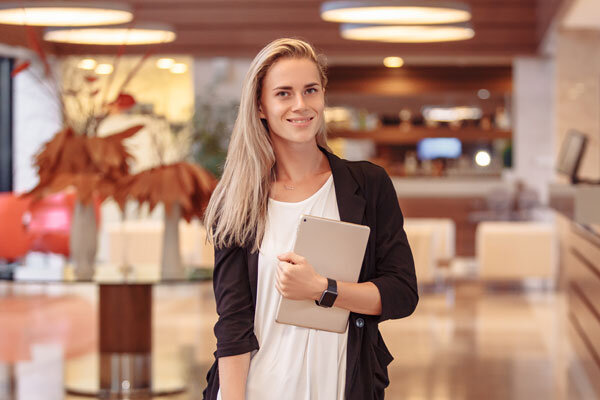 3. You can't create the packages you want or manage ancillary sales
Total revenue goes beyond RevPAR (revenue per available room). You have ancillary revenue as well, which includes package components, F&B, retail items, and activities. With airlines constantly losing luggage, you could even offer an overnight basket with comfy PJs, so guests don't have to sleep in their jeans. 
Products like these are a great way to provide value and increase total revenue. If your current PMS doesn't support ancillary sales through features such as revenue codes, flexible package management, point-of-sale integration, booking add-ons, and sales reports, it's inhibiting revenue growth. 
4. It's difficult to stay on top of online bookings (or you're not getting any!)
Most travelers purchase flights, activities, and accommodations via the internet. In a 2022 survey of American travelers, over a third of participants said they booked a hotel online in the past year, even with the pandemic. This is no surprise, considering how convenient it is. People can do it whenever they like, and they don't have to listen to hold music. (That music is never as calming as you hope.) 
For accommodation providers, it's crucial to be visible online where these potential customers look. Properties that do not offer online bookings lose a significant chunk of business.
Your PMS should include a commission-free and mobile-friendly online booking engine for your property's own website and should also offer two-way integration with online travel agencies (OTAs) like Booking.com and Expedia, the Global Distribution Service (GDS), and/or a channel manager. Directly connected to your online booking channels, your PMS centralizes reservations and distribution to maximize revenue and prevent double bookings, rate errors, and other mistakes that can lead to bad reviews and lost profits. 
5. You're leaving revenue on the table
How much you can charge depends on many different factors, and those factors change frequently. Seasonality, availability, competitors, and even inflation can all impact your best rate. If your hotel only has one room left in the busy season, that room just became much more valuable.
Making adjustments with a calculator (or worse by hand) takes too much time, and your result may not be as accurate. This is another reason a good PMS is key. Your PMS should offer the ability to automatically change your rates when your availability changes. You shouldn't have to rush to input new pricing when you're unexpectedly swamped, your system should do it for you.
If your situation is more complicated, you can integrate your PMS with an automated revenue management system that uses a sophisticated algorithm to determine your best price based on seasonality, market factors, and competitor pricing as well as your property's own rate and availability data. WebRezPro integrates with revenue managers like Duetto, Hotelitix, IDeaS, and Pricepoint to ensure you never leave revenue on the table.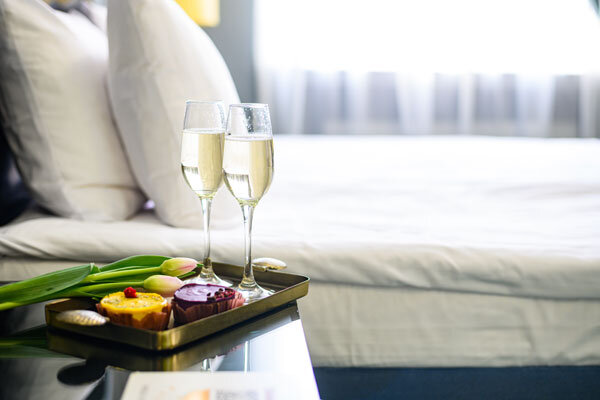 6. You're missing opportunities to personalize the guest experience
As technology within the hospitality industry evolves along with guest expectations, more accommodation providers are focusing on personalized guest experiences to build loyalty. And they're barking up the right tree. Even back in 2017, an Epsilon survey showed eighty-percent of customers were more likely to purchase from a brand that personalized its services. 
However, you need to know who your guests are in order to personalize their experience. A PMS that doesn't allow you to manage guest profiles (complete with information like stay history and preferences), lacks automated guest email functionality, or doesn't integrate with CRM or guest engagement software inhibits your relationship with guests.
7. Your PMS isn't future-proof
That relationship with your guests needs to adapt as their expectations change, and your PMS has to adapt as well to accommodate this. The hotels of the future aren't the same as the past or the present, and over three quarters of surveyed hoteliers around the globe plan to increase technological spending in the next few years.  
Post-pandemic, there's an even greater emphasis on cleanliness and efficiency with features such as self-check-in. Guests are done with that stop at the front desk, which means staff can spend that time on other things, like responding to requests and reviews. 
In future, your staff may not even be human. Hotels like Motel One in Germany and Henn-na Hotel in Japan are already using robot concierges. One day, your PMS will be responsible for integrating with those concierges (and preventing their eventual uprising). Find a modern PMS whose features and integrations change with the times. 
For a PMS to be truly future-proof, it also needs strong reporting capabilities. In addition to standard KPIs like occupancy rates, ADR and RevPAR, every property is unique and may require tailored reports. A strong PMS can generate custom reports, allowing you to easily filter, sort, and export your data. Knowing where revenue comes from—or doesn't—shows you the improvements you need to grow your business. 
The time you spend finding the right PMS is an investment in future revenue and efficiency. While it may cost you more time now, it will save you time and increase your bottom line sooner than you think. If you're experiencing the red flags mentioned above, you need a change. Contact us for a free, no-obligation demo and find out how WebRezPro can improve efficiency and revenue for your property.
Editor's note: This post was originally published April 2017 and updated October 2022.