Growing a loyal customer base is great for business. (This goes for any industry, not just hospitality.) Bringing past guests back not only costs less than acquiring new ones, but loyal customers tend to spend more too. In addition, they advocate for your property, recommending it to their friends and family and sharing their stay experiences on social media.
The key to turning a new customer into a repeat one is, of course, great service. And the key to providing great service is wonderful staff and relevant offers backed by efficient systems. When operations run smoothly and guests receive the level of service they expect, satisfied, loyal customers are the result.
Modern cloud property management systems like WebRezPro generate repeat bookings by automating processes and managing guest data to empower lodging operators to provide efficient, personalized, quality service. Let's break it down:
Efficient Service
Making guests stand around waiting while you key in credit card payments, flip through registration cards, or go and check if Room 104 is ready for them isn't what they'd call efficient service.
Efficient service depends on automated processes that simplify workflows and facilitate quick, seamless delivery. A cloud property management system makes this a reality by centralizing data to automate routine tasks and improve communication (with guests and internally).
For example, a website booking engine allows guests to make reservations for themselves 24/7, saving front desk staff time on the phone. Email templates ensure every guest receives personalized booking confirmations and other routine communications at the right time, automatically. Integrated payment processing speeds up the check-in process and makes spending at your property more convenient for your guests. Housekeeping and reservation alarms and/or guest messaging integrations enable staff to stay on top of guest requests and resolve service issues faster.
Self-service options
Self-service options are increasingly important to guests, allowing them to complete transactions at their convenience—whether they want to make a booking outside your office hours or check in without waiting in line at the front desk. A whopping 73 percent of travelers want to use self-service applications in hotels.
Give them what they want by choosing a property management system that includes a mobile-friendly online booking engine for your property's website and guest self-check-in functionality. Just like a smooth, satisfying stay experience, a secure, user-friendly online booking and check-in experience will be remembered by customers when they plan future trips, helping to create long-lasting relationships.
WebRezPro's commission-free online booking engine allows returning guests to use their existing profile to speed up the booking process and book special rates using access codes. Fully integrated with the PMS, it automatically displays live rates and availability, preventing double bookings and disappointment.
Using our built-in guest agreements feature, hotels allow guests to complete registration online before they arrive. And with a mobile key integration, properties can automatically send guests their digital room key for a completely contactless check-in experience they'll appreciate and look forward to next time.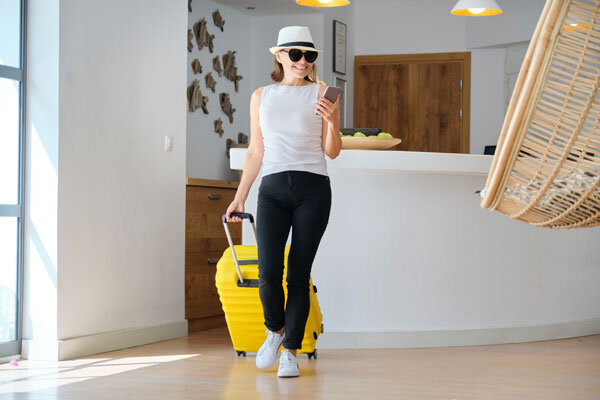 Mobile accessibility
The ability to access guest and reservation data on the go allows staff to expedite service delivery. Mobile-friendly cloud PMS free staff from the front desk by putting the information they need in the palm of their hand while interacting with guests anywhere on the property.
Guest requests can be logged on the spot and resolved faster without staff having to return to the front desk. Behind the scenes, a mobile housekeeping app contributes to a more satisfying guest experience too, helping to ensure rooms are always ready for guests and housekeeping requests or maintenance work orders are completed promptly (more on that later).
System integration
One major advantage of a cloud property management system is the ability to integrate with other hotel systems in order to consolidate data and automate cross-system processes, which has a direct impact on service delivery.
For example, your PMS can be integrated with your preferred payment gateway so that credit card payments can be processed directly through your PMS for faster check-ins. Integration with GDS and OTA channels allows you to control online inventory from your PMS and sends GDS/OTA reservations straight into your system. Integrating your point-of-sale system with your PMS automates the process of posting restaurant, shop, and spa charges to reservations. 
Building an integrated tech stack with your property management system at the core streamlines operations and puts your data to work for you, resulting in seamless, efficient workflows and service that leads to satisfied guests.
Personalized Service
Smooth operations and efficient service are key to delivering a great guest experience, but you have to go even further for today's guests. Eighty-seven percent of vacationers are more likely to do business with travel brands that offer personalized experiences.
You can't provide personalized service if you don't know your guests. A personalized customer experience is powered by data. And as the hub of operations, your property management system is chock full of it.
Guest profiles & reservation folios
WebRezPro automatically creates a guest profile whenever a booking is made for a new guest. Profiles automatically store important information, including contact details and previous stays, and allow you to manually record additional notes (like allergies and anniversaries) to personalize their experience. Reservations for returning guests are then matched with their existing profile so staff can recognize loyal customers and deliver a tailored experience.
VIP status can be designated to very important guest profiles and will automatically apply to all reservations attached to that profile, signaling to staff how valuable the guest is—on the tape chart, on the reservation folio itself, on the daily check-ins/check-outs report, and on the housekeeping report. Reservation pop-up reminders can be set to alert staff of any special requirements before a guest checks in, when they check-in, or whenever their reservation folio is opened. Such simple features are key to providing a tailored experience for every guest.
A system that helps you collect, organize, and access guest data seamlessly is critical to delivering personalized service.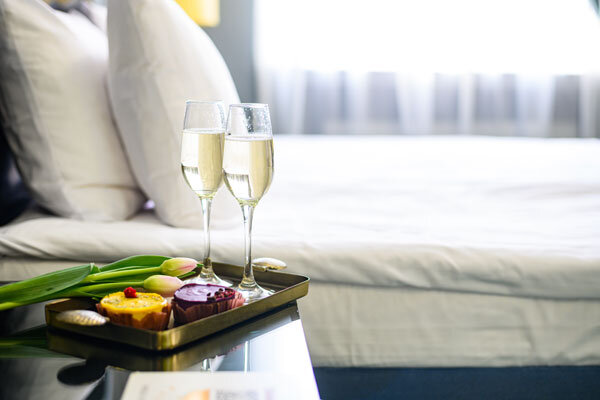 Automated messaging
Guest and reservation data can be automated to manage guest communications for you, ensuring every guest feels valued. Use email templates within your PMS to generate routine pre- and post-stay emails—from booking confirmations to feedback requests—that are personalized and triggered based on reservation information, including contact information, stay dates, and room and rate type.
Guest messaging integrations can also be implemented to send guests automated text messages based on reservation data. WebRezPro connects to numerous leading guest messaging platforms, enabling hoteliers to communicate with guests instantaneously, all the while collecting valuable data to power tailored service.
Automated messaging is essential for delivering personalized guest experiences and growing loyalty—and it's an efficient and effortless way to do it.
Rate management
Your guest and reservation data is also key to defining a revenue management strategy that generates repeat bookings. Analyzing booking patterns and identifying your most profitable guest segments empowers you to determine the right pricing at the right time to attract both new and previous guests.
WebRezPro's flexible rate management tools allow you to manage a dynamic pricing strategy with day-of-week pricing, automated yield management, unlimited overrides, and the ability to package rooms with additional amenities and/or services. Use corporate rates, negotiated rates, discounts, and password-protected rates to offer loyal guests your best prices to entice them back again.
Rewards program
We can't talk about customer retention and service personalization without mentioning reward (or loyalty) programs. Cloud property management systems that offer this feature provide hoteliers with an obvious avenue through which to get to know guests and incentivize them to return.
A PMS-based rewards program allows a property to define its own rules—such as the number of points earned per dollar spent, redemption terms, and the rewards themselves—which is important as loyalty programs become more flexible, personalized, and geared toward instant gratification.
Quality Service
Efficiency and personalization are each a part of quality service—which is what guests get when that intrinsic element called "hospitality" is apparent. Hospitality means receiving guests in a friendly and generous way that makes them feel comfortable, welcome, and well taken care of. It's so simple yet harder to do without the support of automated hotel software.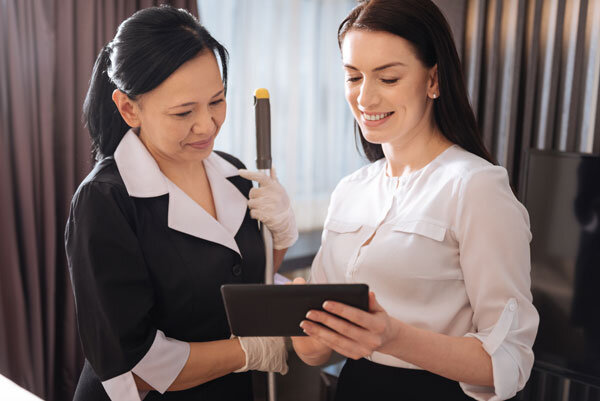 Housekeeping app
WebRezPro's mobile housekeeping report not only improves productivity, allowing staff to access and update their cleaning schedules on the go as they work, but our housekeeping checklists feature helps them maintain high cleaning standards for every room.
Housekeeping checklists can be created and standardized for each room type, listing tasks (like "wipe inside vanity drawers," "restock facial tissues," etc.) by section (e.g., "bathroom," "bed," "kitchenette"), ensuring housekeepers never miss a spot. When checklists are activated, they must be completed before the room status can be updated to "clean," improving accountability along with room quality—and, ultimately, guest satisfaction.
Happier staff
Although happier staff is not technically a feature of an automated property management system, it is a direct result of using one! When time, energy, and patience aren't drained by inefficient systems, your staff has more time, energy, and patience for your guests.
Happy staff are crucial to gaining happy, loyal customers. They're more engaged and invested in their job, and it shows in the way they interact with guests—always with a smile and a genuine willingness to help make their stay a great one!
Simplifying daily operations and giving you more control over your data, a cloud property management system like WebRezPro provides you with the tools you need to deliver efficient, personalized, quality service that generates repeat bookings.
Read How Hotel Management Software Helps Attract New Guests next!
Editor's note: This post was originally published January 2017 and last updated August 2023.