Even with post-pandemic uncertainty, plenty of people look to experience the high life when they travel…and they're willing to pay for it. The luxury travel market is expected to more than double from $638.2 billion in 2021 to $1650.5 billion in 2031. From Rodin-inspired pastries to 24-karat gold facial masks, here's how to attract these Astor-esque guests to your boutique hotel. 
Find Your Unique Selling Proposition
Find and celebrate your unique selling proposition (USP) by identifying what you offer that your competition does not. What is it that sets your property apart? Is it your delectable, allergy-friendly dining options? Or your invigorating eco-tours? Whatever it is should feature prominently in your marketing.
Your USP also determines what niches you can target (see below). Your kids' club won't be as attractive to honeymoon couples, but it will appeal to family travelers aka parents who need a break asap.
If you're not sure what your best points are, take a peek at your reviews. What do guests consistently compliment? Knowing yourself is important for properties of all star ratings, not only luxury hotels.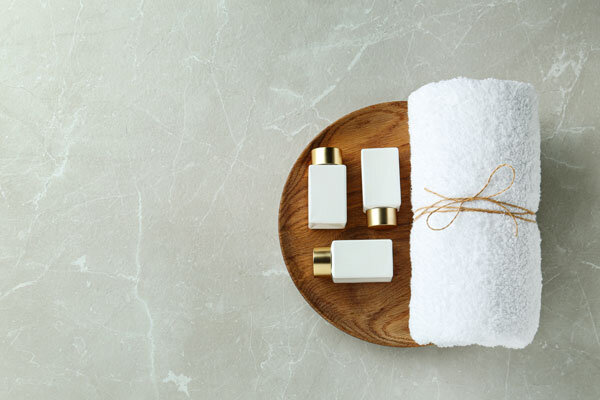 Define Your Target Audience
Not all luxury travelers are the same. Like any other guest segment, they have their own niches and subsegments, e.g., pet lovers versus honeymoon couples. Sometimes these segments overlap nicely (pet lovers versus…most any other group), and sometimes they don't (pet lovers versus anyone with a dander allergy). Conduct in-depth research and gather your own guest data; don't rely on stereotypes. Not every luxury consumer is from older generations. Forty percent of buyers of luxury goods will be made up of millennials and Gen Z by 2025.
You can find guest data in your property management system (PMS), using guest profiles and reservation reporting functions. In addition to automatically collecting data like contact details and stay history, input relevant information about guests as you learn it, like their favorite poolside drink or the name of their pup. Email/text surveys and loyalty programs are also good ways to gather information.
Tailor your marketing to your specific niche. Your hotel won't be a fit for everyone, and that's okay. In fact, the appeal of your hotel is that it's not for everyone. Status and exclusivity (see below) have always been a part of luxury.
Personalize Every Guest's Stay
Luxury travelers expect a personalized experience, which you can give them using the data from your PMS. At the very least, all written communication should be addressed to guests by name. You can also use pre-arrival surveys and guest segmentation (see above) to deliver individualized upsells. Maybe that honeymoon couple would like the classic chocolate and rose petals…and a private evening sail with a four-course dinner for two and exclusive wine pairings.
This is where automation comes in. Email templates in your PMS pull from your reservation data, ensuring that your communications are personalized, accurate, and timely. And it doesn't stop at email. Consider a web-based app or SMS messaging to engage with your guests. You can promote relevant upsells and ensure their stay runs smoothly, and they can let you know about any requests. WebRezPro partners with a number of guest messaging integrations, including Akia, Breezeway, Canary, and Duve.
Be proactive. If there's a note in the guest profile saying they requested extra pillows on their last stay, get those ready before they even check in this time. Have their favorite drink prepared when they walk in the door. Your goal is to surprise and delight.
Provide a Frictionless Experience
Travelers at this level pay for a truly frictionless experience, so that's what they should be getting. While you can't completely eliminate incidents, and good guests will be understanding, there are things you can do to make day-to-day operations and guest touchpoints much smoother. This is where an automated, integrated property management system comes in.
For instance, self-check-in with a mobile key solution allows guests to get straight to their vacation. Integrated with the PMS, check-in communications and key delivery are seamlessly delivered to each guest at the right time, leaving staff free to welcome arrivals and provide focused assistance as needed.
Payments should be seamless as well. Use payment gateway and POS (point of sale) integrations so guests can effortlessly settle their bills. Necessary for automated check-ins and check-outs, a payment gateway integration enables guests to pay online and speeds up on-site payments too, while a POS integration automatically sends extra charges (restaurant meals, spa treatments, etc.) to the guest's reservation so staff don't have to do it manually (and risk making mistakes).
Lastly, guests at this level enjoy cutting-edge gadgets and smart-room technology for functions like temperature control and lighting for an intuitive in-room experience and utmost comfort. They also want to stream their own media content. But, like all technology, in-room tech only really works if it works easily. The goal is a frictionless experience, not a frustrating one.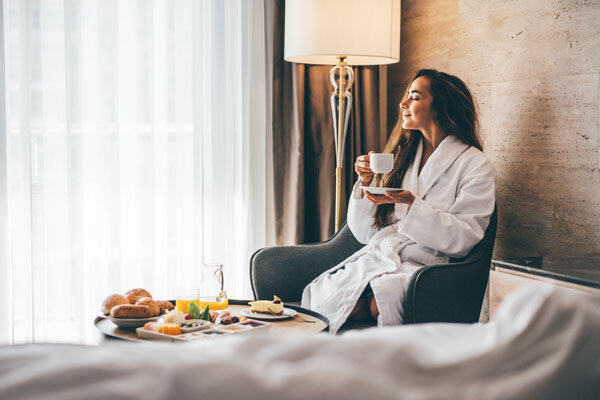 Offer Flexible Bookings
Even people worth a lot of money don't want to risk a lot of money. While we're moving into the post-pandemic era, Covid is still hanging around (like an uninvited guest who won't take a hint), and no one wants to spend money on a vacation they can't enjoy. Flexible booking policies give guests the confidence to make that booking.
If you're worried about your profits taking a hit, you can always limit flexibility to loyalty program members or convert cancellations into future credits or gift certificates.
Invest in Your Staff
Even more so at the luxury level, excellent customer service is—or should be—an integral part of the guest experience. However, being the perfect host is skilled work. If you want your staff to perform like Jeeves, you should treat (and pay!) them like Jeeves.
Sell Exclusivity
Not just anyone could stay in the king's rooms at Versailles. Determining exclusive access and turning that access into a status symbol was how the Sun King and his descendents lasted so long (even if it did make dressing in the morning a bit of an ordeal).
Though calling yourself king is somewhat gauche now, accessing exclusive experiences is alluring. It's the whole point of VIP sections. Think of your entire property as a VIP section…then see how many other metaphorical VIP sections (experiences) you can create. Private dinner? Check. Limited seating eco-adventure? Check.
Invest in Video
Use video to show off your hotel and let guests know what to expect. While this makes sense for most properties, production values are higher at the luxury level. Budget motels may be able to get away with a shaky TikTok, but that doesn't work if your property consists of six-star villas in the Dominican rainforest (with a private chef!). That doesn't mean you can't use more informal content or take guests behind the scenes. It just means it has to look good.
Support Sustainability
In a recent luxury travel survey, 74 percent of respondents said that they would pay more for sustainability if they knew how the money is being spent, and another 70 percent said emphasis on sustainability makes their vacations better.
Sustainability doesn't have to mean staying in a tent in the woods with a leaky blow-up bed and roots digging into your back. It can mean an energy-positive hotel with 360-degree views of the Arctic Circle or a podtel in the middle of nowhere with a concierge app and anti-gravity floatation tank. At this level, sustainability goes beyond simply reducing plastic and encompasses significant construction and energy changes.
From unique and exclusive experiences to seamless, personalized service, luxury travelers have big expectations and are prepared to pay top dollar for hotels that fit the bill. Appeal to these high-net-worth guests with bespoke experiences based on both market trends and individual tastes. You're their oasis after all those 80-hour work weeks in big law. So pull out all the stops to grow a loyal and lucrative customer base.